seedlings started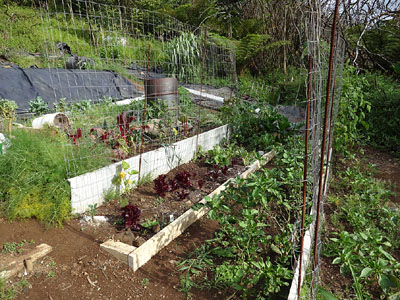 Early 2014

Finally looking like a real garden again!


2013
I put the tiers back in, and some fence for plants to climb.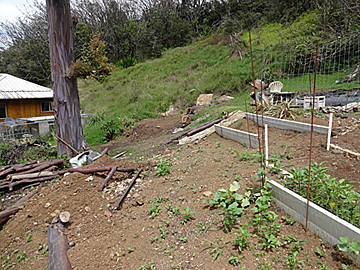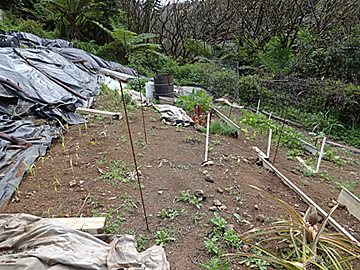 OK, so there's a lot of weeds.....
and my first crop of corn, which was moved 3 times didn't really do well....
But I planted some more corn, above picture, on the left, hopefully that will do better!


But peppers are doing really well!
Plus some squash, chard, cucumbers....


I used some of the smaller logs for another retaining wall.
Banana trees and a Nani cat on the right...


I also used more logs to frame the left side of the garden.
And a metal trim around some other plants to let the grass grow up to that.

---

Fall 2012 and I finally got some tiers put in for a garden.
AND I got some plants in! yeaaaaa


You can see some plants growing..... Swiss chard, corn, etc...
BUT THEN, the sun started hiding behind our big rainbow eucalyptus tree, and our solar output wasn't doing as well as it needed... SO, we decided to put in more solar panals, and cut back the Rainbow Eucalyptus tree next to the garden!! See more pix onthe 2012 update page, but that meant all the branches and trunk were going to land in my garden!
Thus, I pulled out all my plants, put them in buckets


I also had to move all the tiers and everything, so they wouldn't get crushed!


Here is my garden full of branches!




Early 2013 and I got all the branches removed but the big trunks remained...
Shortly after spending money on cutting the tree down, several trees, next to the driveway, tipped over into the stream, which made our driveway weaker. We had to then hire an excavator to build up a retaining wall, to prevent the driveway from collapsing into the stream too!
So while he was here, I had him move the trunks from where they lay in the garden, left, to help be a retaining wall in the garden AND also be benches!


Our $2000 Custom Rainbow Eucalyptus Benches!



---

Picture from 2013 for comparison

Spring 2012 and I still haven't had time to
plant or even just get the garden ready!


2011 from garden hill to house


Notice the branch ,from the Rainbow Eucalyptus, with my swing on it is missing.. I am trying to decide where to hang my swing again...
Pineapples planted on the top of this little hill,
and on the right side.
Compost barrels on the hill.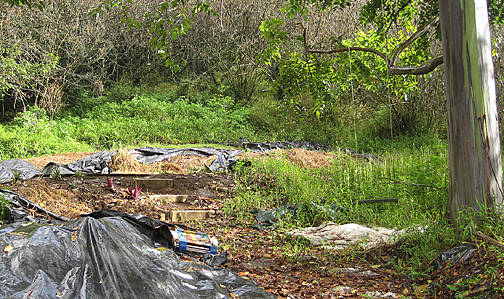 2011
I put in a couple steps, to the garden, with some recyled lumber and metal rebar I found...
I am keeping as much of the garden area covered with black plastic, (mostly leftovers from when they were building the house) until I actually can plant. Weeds grow so fast I can't keep up.




2010
Is that my mom on my swing?


2009 Starting to excavate

---
---

A real Artichoke!





Leeks!