2013 Updates
March 2013 Started out with lots of work to do in the garden! All the branches from taking the Rainbow Eucalyptus down, had to be moved, including the huge trunks!
But after that I finally got a good garden started!
---
Soon after spending money on taking the big tree down, we were forced to spend more money hiring an excavator to build a retaining wall next to the driveway. We awoke, one day, to several of the trees next to the driveway just tipped over into the gulch by the stream .This was nice, in a way, for letting more light into our driveway, but it also started a fracture line, which indicted we might lose part of our driveway in a slide!
I removed all the plants I could save, mostly pineapples, and those purple green leafed ones... etc... Said goodbye to the papaya trees though...
The cats enjoyed a new toy for a few days!
---
In March we had a huge flood! Our stream turned into a raging river! We didn't have any real issues, because of it, but it is a little scarey...
---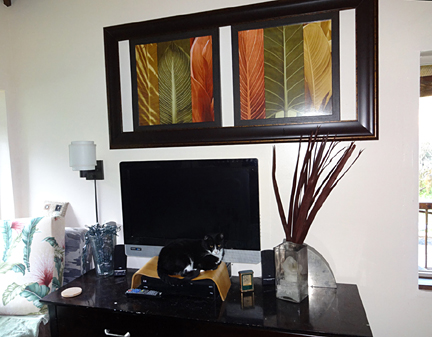 We got a beautiful picture from the trash! Someone actually threw this away! It was a little wet, but we dried it out and it should be fine!
---
Mom and I roasted coffee beans while they were visiting in February! I had picked some red coffee beans a couple months earlier and prepped them, by removing the outer fruit, soaking them for a couple days, then drying them. I had found something called a nut roaster at savers before, which worked perfectly for roasting coffee! It turned out great!

---
Shaun found a Hot Tub on Craigslist! Solar powered!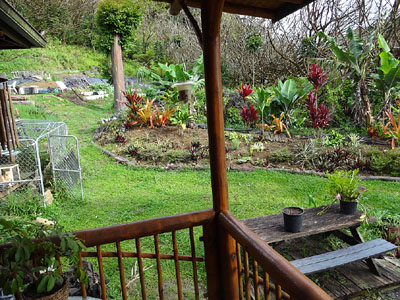 Looking towards the garden. Notice the Eucalyptus trees new growth.... I used some of the large tree limbs for edging. .
---
Our new Bamboo floor!
Found the woodstove on Craigslist! Nights can go down around 55 degrees, when there are clear skies!Brrrrrrrrrr We put in tile and stone to make ready for the wood stove (Tile was free and stones were on clearance...)Have to get a permit before we can install the stove though...