2020 Updates. Pandemic year!>/h3>
Time to work on the RV.
Looking north towards the driveway.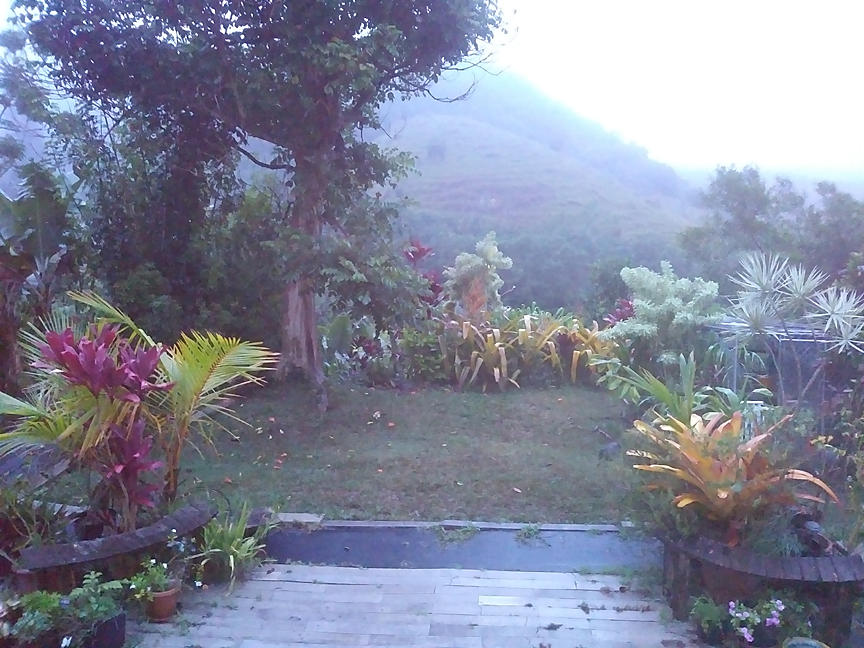 No major hit or damage, from Hurricane Douglas in Hawaii, but always a bit scary not knowing what might happen.
---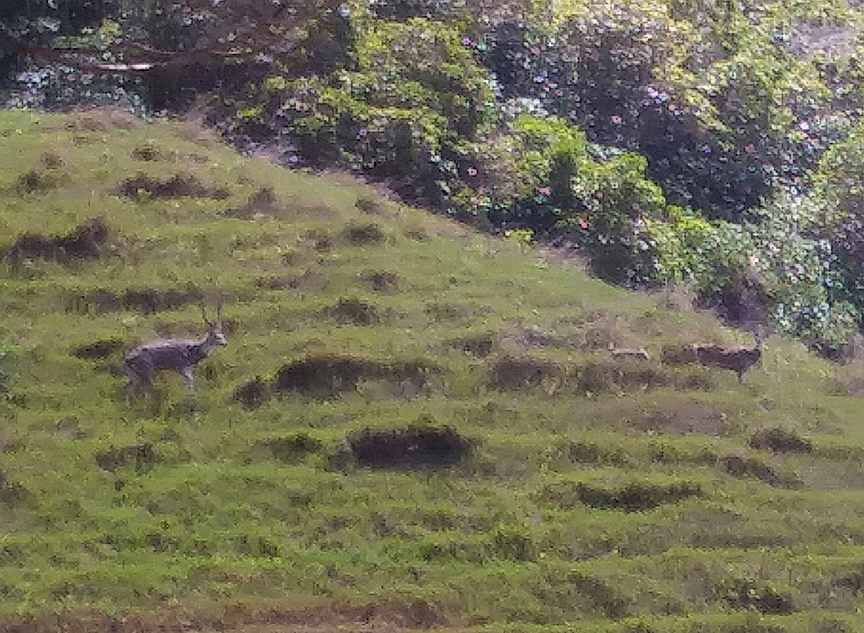 A couple Beautiful Hawaiian Axis deer on the hill across the valley.
---
I did a lot more work on the RV. It is Very nice to see the old rotting RV turned into something SO wonderful!
Although.. Demoing an RV is very hard work! Nothing is straight. There are bolts protruding here and there... Rotting supports. Holes... Nothing to pound into... I am very happy to be done with that!
I put in a roof over the whole thing, put in a front patio, and painted it! I had tried several coatings on the roof previously, but they never lasted with the heat and rain.... So a permanent roof was the way to go!
The week after I finished the roof, was when we had the hurricane warning.... so I bought tie down straps and put them over the top.... I didnt want the roof to blow off!
I wanted to move the main bed from over the driver area to below it.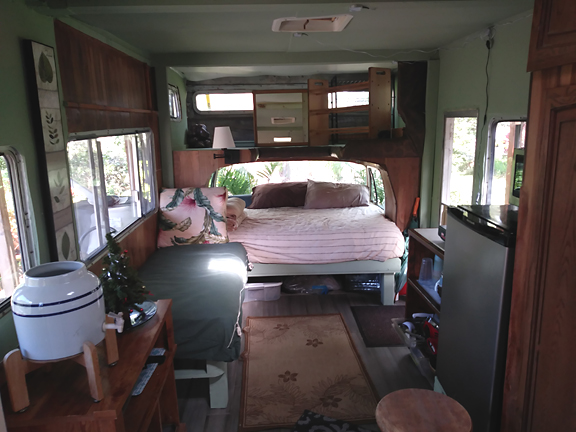 I cut down the mattress to fit, and added a moveable bench seat that would extend the bed length when needed.
I put in bamboo flooring, bought on clearance sale, and combined 2 salvaged gallons of paint to make the green wall paint!
The bathroom turned out nice too..
Toilet seat lid covers from yours truly
Looking toward the back door.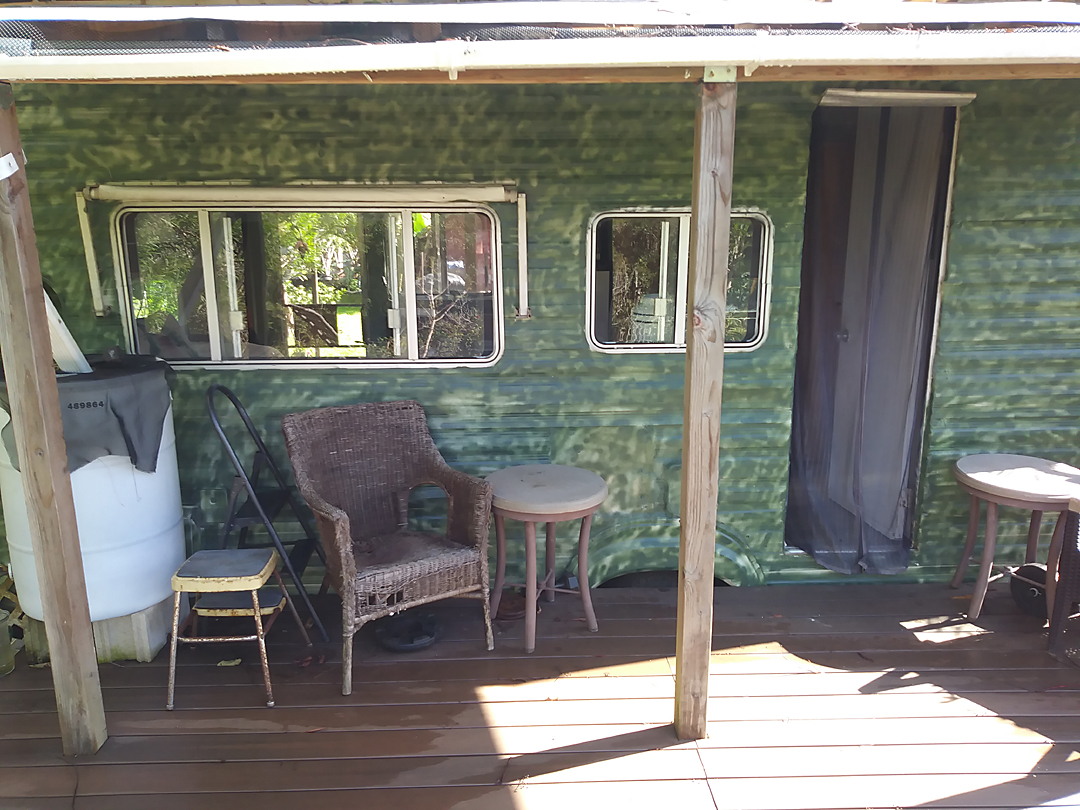 The RV backdoor from the deck.
The view looking west from the RV deck.
---
A pig snuck into the yard again, so I had to fix the fencing. They can push their way over it, and under it...
Pig damage
I had to replace my refrigerator, so I took the old one and made a raised garden out of it.
These chairs were salvaged from the dump!
They are SO cool!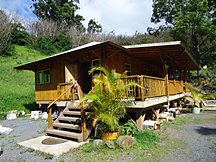 The same Pineapples growing in a pot the year after
I planted the Banyan tree next to the driveway, in the culvert stream area.
---
Banyan Tree planted in 2020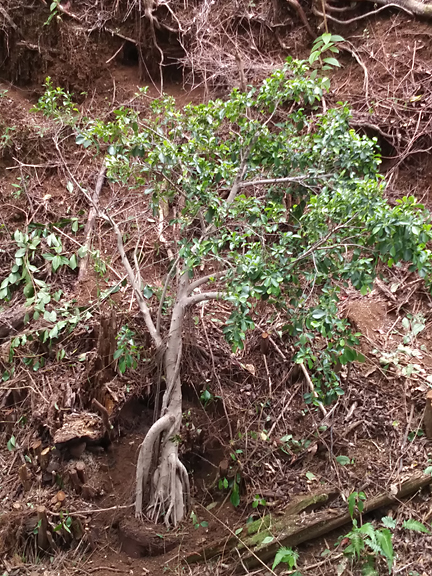 Huge Antherium flower... Dads sweetheart tradition, giving mom a bouquet of Antheriums for valentines day... and when they were here, over valentines, he would buy a potted Antherium plant and I would plant them.
Be happy you dont live on Maui. This is a typical weed! Cane grass! Grows really fast, and over 5 feet tall!
---